Are Olaian soft tops good? What's the performance of Decathlon foam boards? The prices are so attractive that a lot of people have doubts as to how well these soft tops surf.
Well… we at Foamiecrew love surfing them! For average surfers that love to catch a ton of waves – the Olaian boards are great. You can read all about our experience here.
But we are aware of the fact that we, at FoamieCrew, are a fairly homogenous group. All intermediate surfers. All in our end-20ties. All fairly athletic. So we thought it was time to get some opinions of other Olaian foam surfboard owners. We have gathered information on how people around the world, with different ages and skill levels, think of their Olaian soft top. A must read if you're thinking about buying a soft top surfboard. Read all about the pro's and cons of Olaian foam boards, as told by their owners.
Enjoy!
Olaian 6′
The most basic board in the Decathlon foam range. Made for kids.
Laurent, 42
"We have this little 6 'and the orange 7′ for our 2 boys of 6 and 8 years old who are learning to surf. They love them. The board is really light and with this construction, we know that children can not hurt themselves. Congratulations to the Decathlon team for the plastic fins with the silicone edge. These are probably the best fins in the market for kids. The board is very stable and much easier than the old 6'0 which was in my opinion too technical. The kids manage to stand on the board at a standstill and we even used it in stand-up paddle mode one day without waves. My only complaint: I find that for a board for beginners, the 6' soft top deserves to have a little more rocker and spatula in the nose. This to avoid pearling (nose-diving) in small waves that are a bit hollower. For late take-offs this would also help. This 6'0 is more playful than the 7 'and when it is me who pushes the children in the waves they fight to have "the green". On the other hand, my 8-year-old now manages to catch his waves alone on the peak with the 7. This does not happen yet with this 6'."
We surfed the Olaian 6′ (not this green one but the more performance oriented Olaian 900 6′). See the video of us surfing that softboard in this article. 
Olaian 100 7′
The most basic board in the Decathlon foam range, but a little taller than the board above. Aimed at kids.
Vincent, 35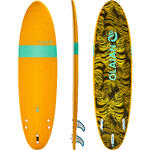 "I wanted to test with my weight of 57kg. Actually this shape is not ideal as it is too voluminous to duck dive under the waves and it's not voluminous enough to catch small, short interval swell waves. In waves around one meter, the Olaian 7'0 is a little slow for my size and tends to nosedive if you lean towards the front for a little more speed.
Ideally I would want a soft top a little thicker and with a rocker a little more curved. This could make this board ideal for small summer waves.
The board must be waxed, despite the advice of sellers. The Decathlon foam boards are really slippery  – especially the painted strip. I am very happy with the looks and aesthetic of the Olaian 7'0. I am also satisfied with the leash. It's of a superb quality with a rotation system: a clear improvement and looks beautiful! In short, I finally switched to the 8'0 foam, but I recommend this board for child that is learning how to surf."
Olaian 100 8′
Also, an entry level foam board from Decathlon. Aimed at kids and lightweights.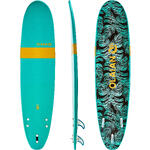 "Contrary to the description ("For beginners up to 65kg") I bought the board with my 87kg. I was not disappointed. I was in France for a week where I surfed several times a day. The Olaian 100 8'0 gave me a lot of fun. Only the leash is unfortunately a bit clumsy, because it wants to roll up due to the ample length. It's too long hence it winds around the legs when surfing. This is much better with other (shorter) leashes. But otherwise, or beginner surfers a bit above 65kg. A clear purchase recommendation!"
Olaian 100 8'6
The tallest entry level foam board from Decathlon. Aimed at kids and lightweights.
Melanie, 30

"I bought this board as well as the smaller foam board for my husband and me. We are new to surfing. Our first impressions are rather good: well designed, fairly stable but easily manageable despite its size. The carrying handle is a real plus (which is not on the other board, unfortunately). During our last surf lesson we brought them, and both teachers were amazed at the quality of the board. There's only one small problem: the fragility of the foam…Two sessions and there is already a hole in the board. That being said, we are very satisfied with the 8'6."
Olaian 500 8'6
A step up from the 100 foam board range. Suitable for adults.
Sebastien, 35
"Bought for my three weeks vacation on Ile d'Oleron, France. After one week of use, I am very very very satisfied. I miss no wave, from the smallest foam to the real wave out the back: the board starts going instantly. It is clear that I am not a surf pro, my style will not impress anyone: but I'm happy. A defect though: the tailpad is too fragile. I am very careful, but the pad loses a piece of foam every day. I will consult with my local Decathlon store about repairs or warranty."
Olaian 900 5'4
Decathlons foam board for experienced surfers. Suitable for adults.
Lean, 30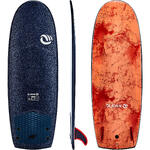 "Good wave output, good paddling and easy to enter the wave. By the way, the Olaian 5'4 behaves much like classic mini simmons, sliding on the surface instead of nailing the rails in the wall, which makes it very fast and more difficult to handle than any other surfboard under the same conditions. You can catch waves of minimal size (below the knee) as if the foamie were a longboard (even – and this I did not expect when I tried – holding some noserides!) while in waves head high and overhead (I've tried the foam board on nothing bigger yet) the 5'4 goes like a rocket. I did not really like it in hollow waves though.
In short, perfect little board for summer waves. The only thing I should add, and this is why I do not give five star review, is that the plugs of the keels (style FCS but in a single long piece) seems not well anchored to the board, producing some flex. The bottom of the fin has a slight separation between the piece and the bottom of the board."
Or read FoamieCrews full review of the Olaian 5'4 here.
More info on Decathlon soft tops in our Complete Ultimate to Decathlon Foam Surfboards
About the source for this article
Luckily, the Decathlon website collects customers reviews. Some are short and brief. Others are elaborate and useful. The customers reviews on the Decathlon site are difficult to find. Also, a lot of them are in Spanish or French. Luckily, we are good with languages. We have selected a few useful reviews by real customers and translated them for you. If you want to read more product reviews, make sure to check the Decathlon UK, France or Spain website. And we'd love to hear your opinion on "are Decathlon foam surfboards any good?"