High-tech electronics and the ocean… not the best combination! But we can't help it! It's just so much fun to capture and share those moments of pure surf joy. The action cams have gotten better, certainly. But the technology of mounting systems for surfing is still in its infancy. We all know at least one person that has lost his or her GoPro while surfing. OUCH! Apparently, it's hard to find a proper way to mount a GoPro on a soft top.
It's crazy if you think about the amount of GoPro's and other action cams that end up on the ocean floor each year. What a bummer…the lost footage of that epic wave! And not to think about all the plastic and electronics ending up in the sea.
Luckily, there are some ways to properly attach an action camera to a soft top surfboard. Most people think a regular adhesive Surfboard Mount will do – BUT THEY'RE WRONG and you'll see why in the next alinea.
So what does work on soft boards? There are three different ways to attach an Actioncam to a foam surfboard:
1. Use a Bodyboard Mount
2. Use a Leash Plug Mount
3. Use Clams or Jaw-type Action Cam Holders
They all involve some extra gear that you have to purchase (starting from €10). All three methods of attaching your action cam to your foam surfboard have different pros and cons. We hope this little guide on how to mount a GoPro on a soft top surfboard is useful to you!
Why is it hard to mount an action cam on a foam surfboard?
First: what is the problem with soft tops and action cams?
The surface of a soft top is well eh.. soft! That's why a vacuum solution (GoPro's Suction Cup) won't work. A flat, rigid object glued to the surface of the board (adhesives) is also problematic.The foam boards' surface is too soft and porous and will not be an ideal location for the adhesives or Suction Cup to create a strong bond.
Since the beginning of the revolution in affordable waterproof action cams, companies have offered surfboard mounts. These are flat plastic mounts that have tape on the bottom. You have to clean the surface of your surfboard thoroughly and stick the plastic mount on the board with some pressure.
This is the most used method of mounting an action cam on a surfboard. However, I'm not a big fan. I do not trust these stickers. Eventually salt water kills any type of glue, no matter the quality.
However, these mounts seem to work decently on normal rigid surfboards – if applied justly. For soft tops it's another story, unfortunately. There are countless stories of foamies and failing surfboard mount. This video below by Australian vlogger Gives A Minute demonstrates the frustration of losing a GoPro on a soft top surfboard. (luckily he had a float thing attached and was able to recover the lost camera).
How to mount a GoPro on a foam surfboard
So, is it at all possible to put an action cam on a soft top? Yes! We'll explain three different ways of mounting an action cam on a foamie here.
Use a Bodyboard Mount
The most rigorous method is that of drilling a hole in your soft top surfboard. This will make it virtually impossible to lose the mount. (You can still lose the action cam if you're unlucky but the mount cannot come off the board).
Yes, that's right. You have to drill a hole all the way from the top to the bottom. Right trough the core of your beloved board.
Most accessories are designed in such a way that they do not allow water to enter the hole. And you have to add some silicone gel to make sure the whole thing is waterproof.
There are several brands that sell these mounts. They were originally designed to be used on bodyboards.
GoPro says on their forum topic Do surfboard mounts work on foam boards
Please keep in mind some foam boards have wooden stringers in the center that run the length of the board. If you hit this stringer than you will need to drill through the wood to attach the Body Board mount. While this mount is known to work for foam boards, you will be installing at your own risk.
Use a drill bit slightly smaller than the mount screw and squirt a little gorilla glue in the hole to seal it. One more suggestion, while you do want the mount toward the nose of the board, put it close enough that you can comfortably turn the camera on while sitting on the board.
The music in the transition is terrible but it's the best video on how to use a bodyboard mount on a soft top
Pro's: The mount really won't come off.
Cons: Your foamie now has a hole in it.
Use a Leash Plug Mount
All boards have a leash plug of some sort. There's a rubber action cam mount that hooks around the little pin in the Proleash plug.
An example of the Leash Plug Mount is the one in the picture by the brand RAM: an 1″ diameter ball, short length double socket arm and adapter. The adapter attaches directly to the under-side of the camera, replacing the factory mounting bracket.
Pro's: This option for your soft top does not require any adhesive or drilling. If you want to use your GoPro on multiple boards – this option could work.
Cons: The leash plug is on the tail of the surfboard. Not sure if this is the most exciting angle for surf filming. Also: if you're using the Leash Plug Mount you can't use your leash plug for your leash.
Use Clam or Jaw-type Action Cam Holders
I haven't actually see people use these on their soft board but I think it would work. The clams have to be strong enough and the diameter at least 6 centimeter in order to work. In contrary to regular rigid surfboards, a pressure / clamp type system would work well on soft boards. I would advice to tie an extra leash or rope from the GoPro to another fixed point on the board
Pros: easy to put on the board
Cons: might dent the board and does require extra leash.
Love this DIY solution! Should try this on a foamie, too!
How to prevent losing your action cam in the water?
Get an anti sink floaty block
Get an extra rope attached to the board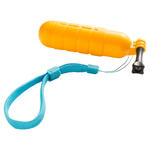 Attach this to your GoPro or action camera to ensure that you don't lose your device in the water. Anti sink floaty for action cam max 250 grams, compatible with G-Eye and GoPro cameras.
We also came across the KNEKT Soft Board Nose Mount. This mount is a combination of the clams and the bodyboard screw mount that looks very secure to us. It supports an action cam pole to provide a better film angle. I was stoked to find this device because I thought it was just a clamp. A bit bummed to find out that the KNEKT mount also requires a hole through the board. But definitely worth a look!