Review of the Olaian soft top boards
Update: the 2021 version is coming soon! Most boards are still available though. 
After considering more than 10 different soft top boards, I decided to buy the Olaian 900 6' foam board. For me, it's the perfect balance of price and quality. It fits my weight, my surfing ability and wave preferences perfectly and it looks great. I've been surfing the Olaian 6' a lot, both in my own line-up as on surf trips.
To be honest: Before buying this foamie I never considered buying surf gear at Decathlon – ever!
But now, half a year later, I've surfed almost all of the Olaian foamies in different conditions and I've noticed: they're nothing like each other! And they can be great fun if you find the board that's good for you. They aren't anything like hand-shaped fiberglass board – and they never will be. But: they can be great shorebreak beaters, family toys and surf trip companions.
 The number one takeaway from this guide, is that it's essential to get a soft top board that fits your surf aspirations. There are great differences in Olaian boards – the one model might be perfect for your friend, but for you it could hinder your surf progression. We tested the Decathlon soft tops and you can read our verdict in this Olaian Soft board review.
Olaian is Decathlons' surf brand. You'll find good looking boards at very attractive pricing… But are they any good?
And what board should you buy?
A board too heavy can really hinder your progression in learning maneuvers, while a board too small might prevent you from catching the waves you want.
Although the Olaian boards come at a friendly price, it's still an investment. That's why it's smart to consider what Olaian board fits your type of surfing. We are here to help you make the right decision and achieve what all of us want: to catch more waves and to surf better.
Decathlon Olaian surf products
Let's start with a little background. Decathlon, part of the Oxylane Group, has taken Europe by storm. Stores have popped up all over the continent, bringing affordable outdoor and sports products to the people. Their formula of modern hyperstores offering both premium brands and their own labels has found a large customer base. The French retailer now has foot on the ground in over 45 countries.
Decathlon has been active in the water sports segment for over a long time. Water sports are one of their key growth vectors, helping Decathlon to surpass the 10 billion euro revenue mark in 2016. (source: UK fashionnetwork) Their subsidiary Tribord offered a wide range of generic water sports equipment such as bodyboards, diving supplies and sailing gear.
As the Tribord product line grew, Decathlon thought it was time for a segmentation. In 2017, some new Decathlon children were born:
Itiwit for paddlers,
Subea for diving and
Olaian for surf.
I say it's a smart move to diversify SUP, kayak and surf. For outsiders SUP, kayaking and surfing all qualify as the same branch of sport, but for the insiders that's usually not the sentiment. Generally speaking, surfers do not like to be associated with paddle lifestyles. By introducing the Olaian brand, Decathon wants to appeal to the growing wave surf lifestyle in Europe. Right now Decathlon still offers both Tribord and Olaian surf boards, but we expect that Tribord will be phased out and Olaian will be the sole dedicated surf brand.
Decathlon launched Olaian as a new brand identity dedicated to wave surfing specifically. The Olaian slogan "Wave it easy" tells us what we can expect from the products that will come out the next years: Foam and hard boards that help to make surfing easy.
Olaians' research and development center is in Hendaye, close to Biarritz and Hossegor. That's where the prototypes are shaped and tested before being mass manufactured overseas. There's even a Youtube vid showing the Olaian employees and ambassadors testing out the surfboards in the secret Basque wave pool! Watch here! (May include very awkward dancing.)
Decathlon Surf Board Models
The Olaian Surfboard family consists of two types of surfboards:
Regular epoxy rigid boards. These are sturdy but heavy – and as our website name suggests – won't be reviewed here. See the product range of the new longboards here.
Soft top or foam surfboards. Boards with a soft and foam-like top layer and generally lighter. They offer 11 different models that we'll discuss.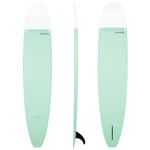 It's stunning that you can buy a brand new foamie under €80 – including a leash and fins. This 7′ model is very basic, though. The cheapest Olaian 7′ has no HDPE bottom like the other foamies and comes with the most basic black plastic fins. It really is a kids only board.
You're probably better off looking at the other models from the 100, the 500 and the 900 series. The 100 series are really fun looking. Olaian offers three 'high performance' models, the ultra short Olaian 900 5'4 and the somewhat bigger Olaian 900 6'0 and the 900 7′. They can be classified as performance models as the are shaped to perform like shortboards.
What do they cost?
cheapest model: blue 7' including leash and fins €79
100 series
6' foam board – including leash and fins €99
7' foam board – including leash and fins €120
8' foam board – including leash and fins €149
8'6 foam board – including leash and fins €179
500 series
7' foam board – including leash and fins €169
8' foam board – including leash and fins €149
8'6 foam board – including leash and fins €229
900 series
5'4 foam board – €169 including fins see our review here
6' foam board – €189 including fins see our review here
7' foam board – €209 including fins
*Disclaimer: these were the prices at the time in Spain in November 2018
What foam surfboard works for me?
We have in depth reviews of the Olaian 100 6'0 and it's performance oriented brother the 900 6′, and of the super small performance twin fin Olaian 900 5'4.
What foam surfboard for kids?
For kids: if you want to surf with your boy or girl on the same board, helping them to stand up, go tandem surfing…you want a big board. I'd say anything above 8 ft.
For kids: if your kid is able to swim and paddle independently
For talented kids: don't be hesitant to go small! A foam board has much more volume than a rigid board. Young surfers will be able to get better at surfing with a 6'0 board easily. In fact, they will learn how to make turns quicker than on a bigger board.
What foam surfboard for adult beginners?
Are you nimble and lean? Do you intent to get really good at surfing? Then you might want to go with the 7 ft or maybe even the smaller 6 ft board.
Are you heavier than 70kg? Than the 8+ range is more for you.
If you're a big guy or girl: go for the Olaian 500 range. These boards have a bit more stiffness than the 100 range.
What foam surfboard for intermediate surfers?
Are you learning to make turns? Go for the 7′ 500 or 900
Do you surf occasionally? Than the 100 or 500 series should be good for you.
Do you want to get good at longboarding? Get a 8'0 or bigger
What foam surfboard for advanced surfers?
If you want a mini simmons inspired shore break machine? Go for the Olaian 900 5'4.
Do you like the Catch Surf short foam boards? Go for the 5'4 (half the price of Catch Surf)
If you love shortboard surfing but you want a board with a bit more volume for the small /windy days? The 6'0 is your board.
If you're looking for a soft top as your only board? It's worth it to consider some other brands such as explained here. With Notox Korko or Catch Surf you'll get a different riding experience – but you'll pay double the price. It's up to you.
What foam surfboard for the whole family?
If you're looking for a nice to have board that will suit pretty much everyone, go for the mini malibu or longboard. The 8ft+ boards.
See all the boards + prices on the Decathlon Website
What extra gear should I buy?
Okay, so you selected what foam board works best for you. Now, let's review the other items Decathlon offers in order to make your surf experience complete.
Should I wax my foam board?
Some Olaian foamies, such as the 7'0, have a large traction pad on the surface of the board. The other models have a more smooth surface that will definitely be more grippier with wax. Decathlon offers three types of wax: eco wax, normal wax and bodyboard wax. We recommend eco-friendly wax always. Why as a surfer would you not opt to keep your playground clean?
We've noticed that the deck of the soft top boards is a bit prone to erosion. As you see in the picture, the Olaian logo comes off due to frequent waxing. The bodyboard wax is a bit softer on the board. If you want to keep your Olaian logo intacti – purchase the bodyboard wax. It's important to give your Olaian soft top board a proper wax job, as explained here. This is quite essential as you don't want to ruin your first session!
Do I need a boardbag for my soft top board?
Decathlon also sells boardbags and board socks in all sizes. Does a soft top need a boardbag? Not really, you'd think. The whole point of buying a soft top board is that it handles impact and doesn't crack. Whereas a normal hard shell board would profit from a padded boardbag when being stuffed in a car or worse, tossed around by airport luggage handlers, a soft top is fine without extra padding. The soft top layer absorbs most impact. However, a foamie can be sensitive to sharp objects. The foam deck is quite prone to little cuts. If you are keen to avoid this damage than a padded boardbag might be for you.
Besides boardbags, Decathlon also sells board socks. Board socks are like a bath robes for your foamie: large knitted sleeves that will protect your board from sand. They won't do much in terms of absorbing impact but they will keep dirt out of your wax. If there's one thing that I hate it's a soft and smooth board – covered in sharp sand. Wax+sand equals sanding paper which messes up your wetsuit and even more so your bare thighs. Ouch! Luckily, keeping your foamie in a board sock helps te keep your board clean. Board socks come in all patterns and sizes. Check them here.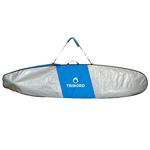 But if you want the best for your board: go for a padded and heat-resistant boardbag. If you're planning on transporting your board in your car, a board cover might be handy as it will avoid salt water and wax messing up your car seats.
However, the surf trip regular will know: the number one function of a board bag is to be seated on by a dripping wet suit covered butt. Out of the water, board bag in on the car seats and drive to the next beach hoping the surf will be better there!
Do I need a leash / legrope for my Olaian foam board?
Some Olaian foam surfboards come without a leash. And why would you need one? If there's one type of surfboard that you can ride leashless – it's a soft top! When the waves are small the soft tops dominate the lineup. In small waves it's easy to control your board and if you lose it and it floats towards the beach – there's not much harm in your foamie getting washed up on the sand. Sure, fellow surfers get annoyed by your soft top floating past them but that's nothing compared to a 9'0 hardshell SUP. And they have the right to be annoyed because everyone should be able to keep their board close to them! So, if you want to be sure not to turn everyone in the water against you and you don't feel like swimming to the beach to fetch your soft top – then get a leash. Also, if you're going to use your board in bigger surf or you intend to buy a soft board for your kids then a leash is absolutely essential.
Intermediate surfer tip: if you want to improve riding out waves in a controlled way, ride your foamie without a leash. This will force you to not 'bail' and keep your board close to you at all times. Insider tip: one of my friends sometimes surfs without a leash in big waves to get in shape! Swimming to the shore to get your board and paddling back out is a great workout.
Are the Olaian standard fins good?
What about surf fins? The Decathlon soft boards come with standard soft edge fins: plastic 4,5 inch fins with rubber edges. Those work just fine for most people. However, the performance Olaian boards are equipped with FCS compatible fin slots. This means that you can upgrade your board with custom FCS system fins. Fiberglass, wood, recycled plastic…the variety in surf fins is enormous. Not at Decathlon, however. So if you want to upgrade your Olaian soft top with sexy custom fins – go to a dedicated surf shop.
What other surf items does Decathlon offer?
Well…pretty much all you need. Obviously all sorts of beach items. But I will focus on the items here that are important for surfing specifically. First of all, car roof straps.
If you're planning on going on a surf trip then you'll need straps to tie the boards on the roof. Don't make the same mistake that I did and that's having to buy them for over €10 at the gas station – but get the good ones that come super cheap. For example, the 3 meter surf car straps for €5 here. 
We are planning on testing and reviewing more Decathlon and Olaian surf gear in the next months. Keep an eye on FoamieCrew!
Here you'll find more in depth reviews about the Olaian surfboards: